The Museum and the Magazine
The magazine "IL POLO" is the official journal of the Polar Geographic Institute "Silvio Zavatti"
La rivista "IL POLO" è la pubblicazione ufficiale dell'Istituto Geografico Polare "Silvio  Zavatti"
The magazine "Il Polo" was born in 1945 when Silvio Zavatti decided to start a newsletter for the Polar Geographic Institute, the first Italian institute.
"Il Polo" is published quarterly and continuously since 1945. In its 70 years of activities, the editorial board of the magazine published articles on all aspects of polar subjects, both in the humanities (polar history, anthropology, ethnography, legal matters, governance) and in natural sciences (polar oceanography, remote sensing, glaciology, biology, environmental chemistry, geology, volcanology, and paleo science). Hence, the magazine addresses both to scholars and to an educated public with an interest in the Polar Regions.
Its contributors are academics and researchers, experts, explorers, anthropologists, historians and scientists of international repute.
Authors should submit manuscripts to the following email addresses:
Dr. Cesare Censi: cesare.censi@alice.it
Information and guidelines for authors on www.museopolarefermo.it
sitate il sito: https://www.rivistailpolo.com/it/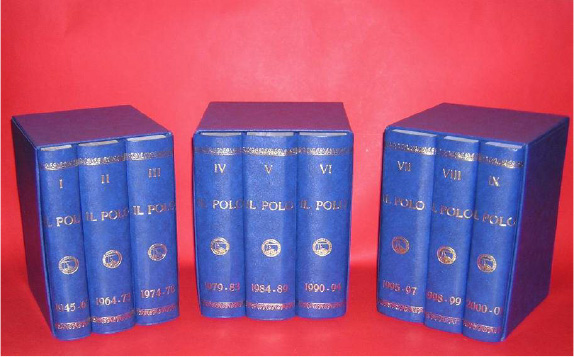 The Annals of the magazine IL POLO are the testament of the Polar Institute history, from its foundation to the present day. In the Annals volumes of IL POLO from 1945 to 2017 are collected. Through the writings of Silvio Zavatti and other scientific experts, the annals represent the most important overview on the polar environment
You can receive a fine piece of 17 volumes of the magazine, by a voluntary contribution.
For more information see the webpage:
Information and
Subscription
FOR DETAILS AND SUBSCRIPTION SEE THE PAGE:
RIVISTA "IL POLO"
OR CONTACT:
POLAR GEOGRAPHIC INSTITUTE "SILVIO ZAVATTI"
Via Cavour, 68 –
63900 FERMO – Italia;
Tel. / Fax (+39) 0734 226166,
e-mail: rivista.ilpolo@museopolare.it Roberto Pazzi